Styled with the utmost elegance and equipped with impeccable functionality, the Rolex Sky-Dweller soars above the rest. As one of the more expensive watches in the Rolex watch collection, a brand already recognized for exemplifying luxury, the Sky-Dweller has a lot of impressive features to offer. As in, its bang is well worth the tens of thousands of bucks. Let's get into what makes this watch as high-caliber and within a class, and price bracket, of its own.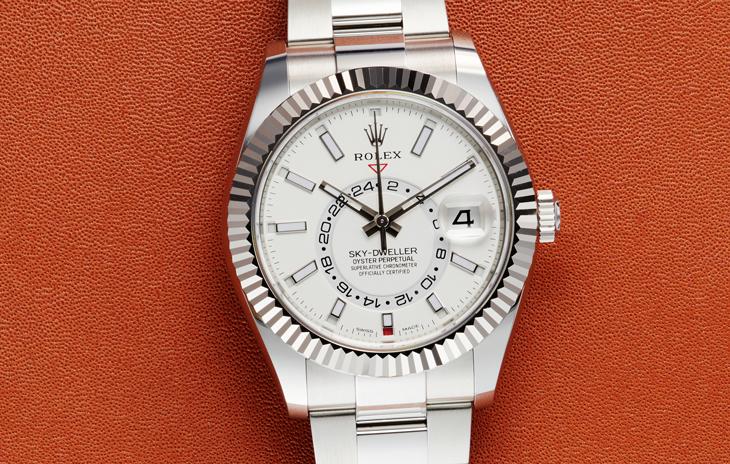 History Of The Rolex Sky-Dweller
Characterized as the ultimate luxury watch for world travelers, the Sky-Dweller has come a long way in a relatively short amount of time. First introduced in 2012, the Sky-Dweller is one of Rolex's newer watches and does not have nearly the same extensive history as some of the brand's other watches, some of which have been around for more than half a century. But despite being one of Rolex's newer additions, the Sky-Dweller has shot up quickly in popularity within the watch community – becoming one of Rolex's hottest models. Its official launching at the world watch and jewelry show, Baselworld 2012, was a big deal in the watch world as it had been a while since Rolex had released a new model. Its innovative design and highly technical functions came as a surprise to many. In fact, the Sky-Dweller currently holds the title as Rolex's "most complicated watch". While the GMT Master series was Rolex's original dual-time watch made specifically for pilots and world travelers, the Sky-Dweller did one better as the brand's first watch to have 2 time zones and an annual calendar complication. What's more, the annual calendar automatically adjusts for months with different numbers of days, and only needs to be manually adjusted once yearly.
The first Sky-Dwellers were only offered in solid gold, putting the collection outside the price range for many. It has since evolved to still maintain its luxurious allure, while being a bit more within financial reach for more collectors. Just five years after its release, the Sky-Dweller became available in different metals and combinations including a two-tone Yellow Rolesor model (a combination of stainless steel and 18 ct yellow gold) and a White Rolesor model (made entirely of stainless steel and fitted with a white gold bezel). These variations of two-tone and steel models of the Sky-Dweller gave the collection a broader appeal as it was now accessible for more fans of the model, largely contributing to its increased popularity.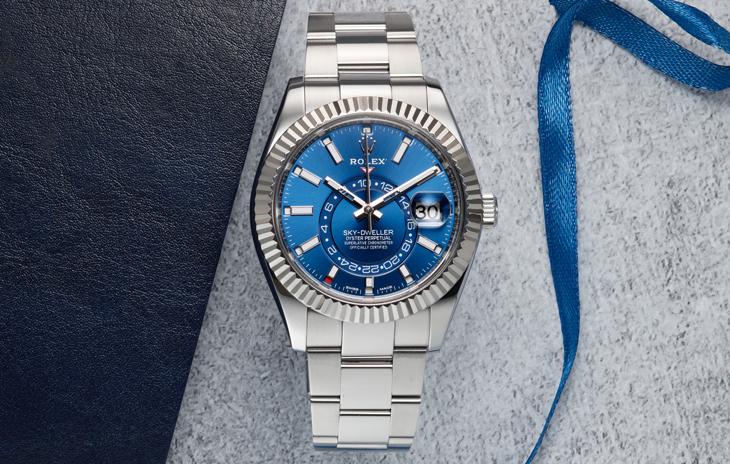 Revolutionary Functions by Rolex
Several special features and functions of the Sky-Dweller set itself apart from the rest and make it one of the most popular watches in the world.
The Sky-Dweller is the perfect functional yet elegant watch for frequent travelers, with all the functionality of a multi-time zone travelers watch and more. Unlike the GMT-Master collection, which also displays two time zones simultaneously, the Sky-Dweller has an important additional feature that sets it apart from not just the GMT, but also every other watch made by Rolex – the brand's first-ever annual calendar. Aptly named "Saros", the ancient Greek term signifying the cyclical alignment of the sun, Earth, and moon, this revolutionary complication brings both elegance and advanced functionality to the Sky-Dweller. With an innovative display, the months of the year are indicated around the edge of the dial in 12 apertures at each hour marker, with the current month marked in red, and the current date displayed in the cyclops lens date window. And, as mentioned, this feature automatically accounts for the number of days in each month needing to be adjusted only once annually, at the end of February.
Powered by one of Rolex's most complex in-house movements, Calibre 9001, the Sky-Dweller is also geared for impeccable precision with a blue Parachrom hairspring – making it as much as 10 times more precise than a traditional hairspring against shocks. Other impressive functions include a Chromalight display that improves visibility at night and in the dark, a durable Oyster case with guaranteed waterproof capability up to 100 meters (330 feet), and a 72-hour power reserve. Technologically speaking, the inside mechanisms of the Sky-Dweller give it unmatched functionality, all the while staying true to the same traditional sophistication of some of Rolex's classics.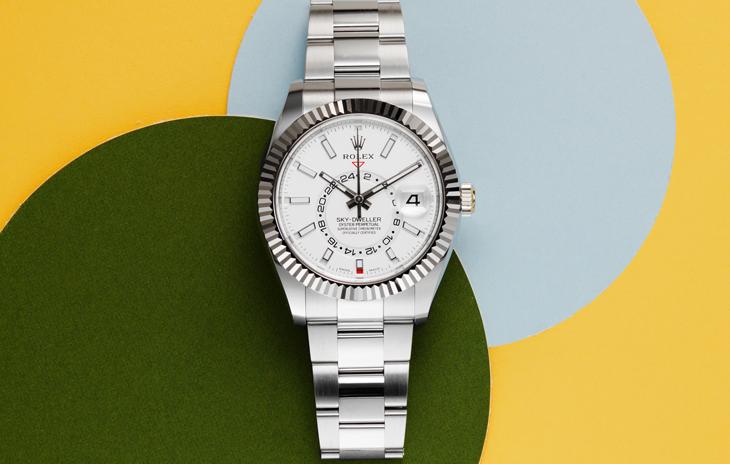 Innovative Design of the Sky-Dweller
Aesthetically, the Sky-Dweller has some notable features that are characteristic to the collection. At a glance, it looks similar to a Datejust or Day-Date with classic Rolex features like its round case and fluted bezel. Upon taking a closer look will you notice the unique complexities on its dial. Compared to many other Rolex watches, it is larger in size, more innovative in design, and more luxurious in overall appeal. Since it was first introduced in 2012, the Sky-Dweller has seen a steady increase in popularity amongst the watch community, being recognized as more of a luxury watch than a tool watch in spite of its unparalleled functionality. This is most likely due to its bold and flashy appeal and the high caliber of materials used to make it. Extremely well designed and only available in precious metals, it's no wonder it is one of Rolex's most expensive watches. With a bold 42mm case, rotating fluted bezel, several light reflective surfaces, and a variety of color variations, the Sky-Dweller is absolutely an eye-catching statement piece on anybody's wrist. Even as the brand's most complicated collection, the attention to detail Rolex put into the Sky-Dweller's design is very tastefully done, accomplishing complex and intricate without being too busy or overwhelming in appearance.
What's more – among Rolex's line-up of new 2020 additions, the Sky-Dweller collection has seen a significant upgrade in design. These new additions come in either 18k yellow gold with a bright black sunray-finish dial, or in Everose gold with either a chocolate or white dial. Most notably, the new Sky-Dweller now comes with a fitted Oysterflex bracelet – making it the first of Rolex's Classic watches to be made with this innovative new feature. The Oysterflex bracelets are made of high-tech, flexible yet durable, and comfortably fitted elastomer and seem to be the replacements for the leather strap models, which have all been discontinued over the years. With their new sporty look, the 2020 Sky-Dweller models are highly coveted amongst watch collectors and enthusiasts. Albeit expensive, ranging between $40,000 – $41,500 retail value, the new Sky-Dweller is expected by some collectors to not only retain their value, but even exceed the brand-new retail prices once they begin reaching the secondary luxury watch market. Making the Sky-Dweller a sought-after multi-time zone traveler's watch, bold statement piece, and worthwhile investment.