The Rolex Standard
Rolex is a brand that has been synonymous with luxury and quality since its inception in 1905. Over the years, Rolex has established itself as the go-to brand for high-end timepieces, with a loyal following that includes celebrities, collectors, and enthusiasts alike. One of the main reasons that Rolex is such a desirable brand is that it holds its value over time, making it a smart investment for those looking to invest in a luxury watch. In this article, we will explore why Rolex is a desirable brand and which Rolex watches make the best investment pieces.
Why Rolex is a Desirable Brand
Rolex is a desirable brand for many reasons, including its history, design, and quality. Rolex has a long and rich history that spans over a century, and the brand is known for its iconic designs and high-quality craftsmanship. Rolex watches are made with the finest materials, including gold, stainless steel, and diamonds, and are known for their precision and accuracy.
In addition to its history and quality, Rolex is also a status symbol. Owning a Rolex watch is a sign of wealth and success, and the brand is often associated with high-profile celebrities and businesspeople. Rolex watches are seen as a symbol of prestige and are often used to mark important milestones, such as graduations, promotions, retirement, and anniversaries.
Rolex watches are also highly coveted by collectors and enthusiasts. Many Rolex watches are limited edition, which means that they are rare and hard to find. This makes them highly desirable and valuable to those who are willing to pay top dollar to add them to their collections.
Rolex watches are also versatile and can be worn in a variety of settings. They are equally at home on the tennis court as they are in the boardroom, making them a versatile and practical choice for those who want a luxury watch that can be worn every day.
Which Rolex Watches Make the Best Investment Pieces?
While all Rolex watches hold their value over time, there are some models that are particularly desirable and make the best investment pieces. Here are some of the most popular Rolex watches for investors:
Rolex Submariner
Introduced in 1954, the Rolex Submariner is an iconic and widely recognized watch across the globe. Its durability and rugged design make it a favorite among divers and watch enthusiasts. The Submariner is even used by military personnel and professional divers. Due to its popularity and collectibility, this watch has a strong resale value and can increase significantly in value over time, making it a smart investment for those who want to invest in a luxury timepiece.
Rolex Daytona
The Rolex Daytona, which was initially created in 1963 for race car drivers, is a highly sought-after timepiece among collectors and investors due to its iconic status. The watch's bezel features a tachymeter scale that allows for accurate measurements of speed. The Daytona's precision and classic design have made it popular among high-profile individuals and celebrities. Additionally, the Daytona is a limited edition watch, with only a few thousand produced each year, making it a valuable and rare investment piece.
Rolex GMT-Master II
Rolex is undoubtedly one of the most renowned and sought-after watch brands globally, and for good reason. It has established a strong reputation for creating highly collectible watches that hold their value over time, and has even been recognized by Forbes as one of the most powerful brands worldwide. Since its inception in 1905, Rolex has remained at the forefront of the watchmaking industry, consistently pushing boundaries and setting new standards. With its numerous groundbreaking achievements, such as introducing the world's first waterproof dive watch and developing its own in-house calibers and materials, it is no surprise that Rolex continues to be regarded as one of the most respected names in the luxury watch market and remains a top seller for watch resellers. Its success and influence are sure to endure well into the future.
The cost of a new Rolex watch has been consistently increasing since the 1950s. This is notable considering the fact that more individuals own a Rolex watch now than ever before, which would usually lead to the devaluation of a brand's products. However, Rolex's value and popularity are still growing, and there are no indications of this trend reversing anytime soon. Clearly, people are willing to pay increasingly high prices for Rolex watches with each passing year.
Acquiring a brand new or used Rolex watch is a solid investment, as it is highly likely to maintain its value and, in some cases, even appreciate in worth. This is especially true for limited edition models, which can offer a good chance of yielding significant profits when it's time to sell your Rolex watch.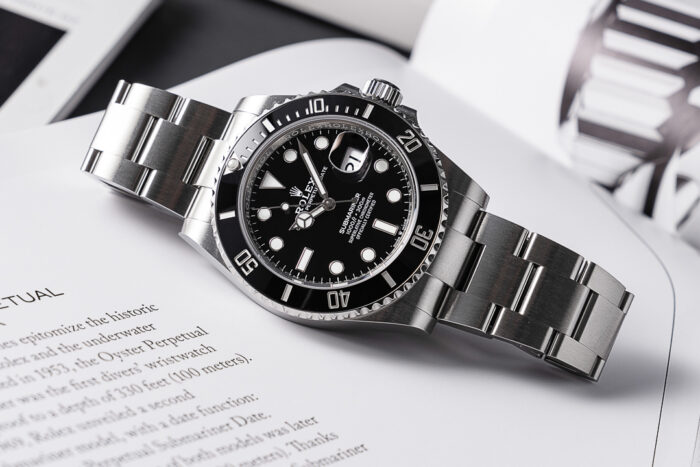 Rolex Submariner Date Ref. 126610LN
Which Rolexes Have High Holding and Appreciating Value?
What factors contribute to the value of a Rolex watch? There are several considerations that affect whether a watch will hold or increase in value over time. One of the most significant factors is its exclusivity. Typically, the rarer a watch is, the more valuable it tends to be, as demonstrated by the highest bids for rare pieces at major watch auctions. A watch's age, condition, specifications, complications, and materials also play a role in its investment potential and whether it is currently in demand among collectors. Below is a list of Rolex watches that are known for holding their value, each for various reasons related to their specific model and features.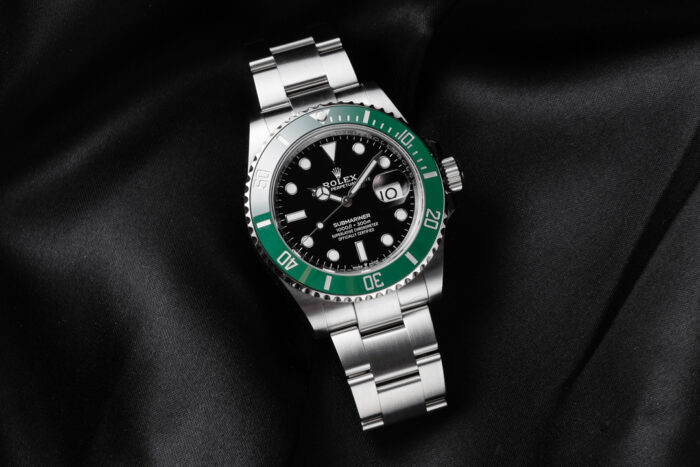 Rolex Submariner Date Ref. 126610LV "Starbucks" featuring a green bezel, black dial, and oyster bracelet.
Rolex Submariner
Several Rolex sports watches are known to consistently hold or increase in value. For example, the ever-popular Submariner is a good investment choice for its popularity alone. Easily one of the most recognizable Rolex watches, the Submariner is a highly coveted piece – especially on the secondary resale market. Features specific to the Submariner – like its sleek and sporty design, impressive water resistance, rugged durability, and its in-house Calibre 3235 movement providing a long power reserve – all attribute to its popularity. The Submariner is so popular, in fact, that there is an overabundance of counterfeits of this watch circulating in the resale market – really speaking to just how valuable this model is that so many would attempt to duplicate it. Naturally, rare and discontinued models attract the most attention from collectors – like both the green versions of the Sub: the "Hulk" and the "Kermit", which has become much harder to come by, and thus more desirable, ever since being discontinued. While the changes between the Submariner 116610 and the Submariner 126610 are minimal, collectors continue to rave about Rolex's attention to detail and the upgrades.
Rolex Cosmograph Daytona
The Cosmograph Daytona, a watch from Rolex's sports collection, is another model that maintains its investment value. It is a racing watch that embodies speed, luxury, and high-performance, designed by Rolex in tribute to one of America's racing capitals. Its unique appearance, featuring three sub-dials, sets it apart from other models. Although it is primarily a sports and racing watch, the Daytona is versatile enough to be worn in daily life, making it a highly sought-after piece for more than just racing enthusiasts. The Daytona is also popular among celebrities, which may be another reason why it retains its value so well.
Actor, director, and race car driver Paul Newman helped popularize the Daytona. He owned and frequently wore Rolex Daytona watches in movies and while racing. One of his Daytonas, the ref. 6239, became the most expensive watch ever sold when it fetched $17.8 million at the Phillips Auction in 2017. The Daytona "Big Red" ref. 6263, another of Newman's personal Daytonas gifted by his wife for their 25th anniversary, will be auctioned off in December and is expected to sell for "more than one million dollars," with proceeds going to a number of charities established by Paul Newman. Rolex has since created some of its rarest Daytonas based on these famous watches, known as Paul Newman Daytonas. These models are identified by an "exotic" or "Paul Newman" dial, with several subtle features that only the most discerning watch collectors will notice. With only about 2,000-3,000 of these vintage special edition models in circulation globally, they are among the most coveted Rolex pieces in the secondary market, consistently fetching six-figure sums at auctions.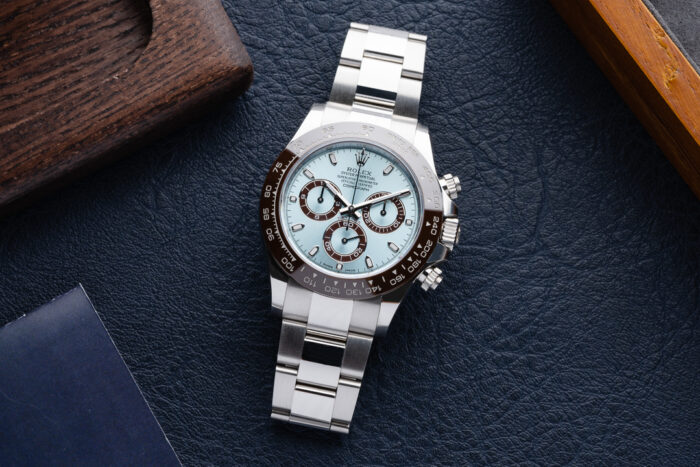 The Rolex Cosmograph Daytona in platinum with an ice blue dial and chesnut brown Cerachrom bezel
Rolex Day-Date
The Day-Date, one of Rolex's most classic dress watches, is a sound investment. This watch was designed to embody prestige and was the first waterproof, self-winding chronometer to feature both a day display – spelling out the day of the week on the dial – and a date window. Rolex's addition of the day display to its watch marked a turning point in the brand's history and the Day-Date has since become a highly sought-after collector's item, even referred to by Rolex as "the ultimate status watch."
There are several reasons why the Day-Date is an excellent investment piece. First, Day-Date watches are not cheap, typically made in 18k gold or platinum, with corresponding price tags, which increases their resale value. Additionally, many Rolex Presidents, including the white gold Day-Date ref. 228239, are highly desirable and consistent in holding their value. Even from a material standpoint, the Day-Date is a sound investment due to its timeless aesthetics and practical functionality, meaning that it will depreciate very little, if at all, over time.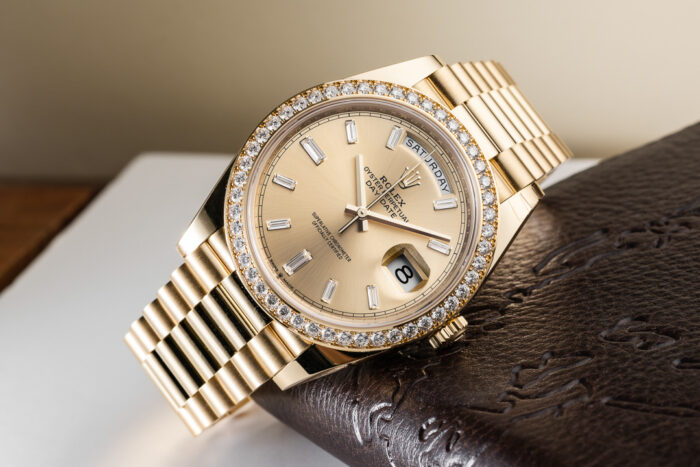 Rolex Day-Date Ref. 228348RBR with a yellow gold president bracelet, diamond bezel, and baguette diamond hour markers
Not All that Glitters is Gold
As previously mentioned, various factors contribute to the resale value of a Rolex watch. The materials used in its construction are a significant consideration. While gold is typically the highest standard and most expensive material used in watches, its use does not necessarily guarantee the highest investable value. In fact, Rolex's steel models are highly sought after by watch enthusiasts, likely due to their versatility and classic appearance. The timeless aesthetic and rugged durability of many of Rolex's steel watches make them some of the most popular choices among watch collectors. While it's difficult to predict if this trend will continue in the future, it has been true for quite some time and is likely to persist for years to come.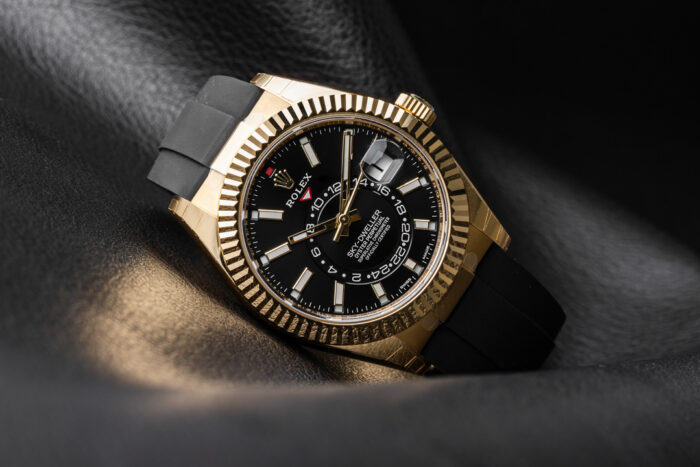 Rolex Sky-Dweller Ref. 326238 featuring a black dial, Ring Command bezel, and dual time zones
Rolex GMT-Master II
The GMT-Master II is highly sought after as the ultimate watch for aviators. Its ability to display multiple time zones makes it a valuable tool for frequent travelers, businessmen, and leisure enthusiasts alike. Equipped with one of Rolex's own in-house COSC-certified calibers, the GMT-Master II is built to last and endure. Its bi-colored bezel gives the series a unique look, along with its bold large dial that exudes luxury and sophistication. Originally designed for international pilots, the GMT-Master's appeal has since expanded to attract watch collectors beyond the aviation community. The watch has become more fashionable as an accessory that can be paired with both casual and formal attire. Collectors are especially drawn to specific models of the GMT series, such as the blue and black bezel "Batman" and the red and blue bezel "Pepsi".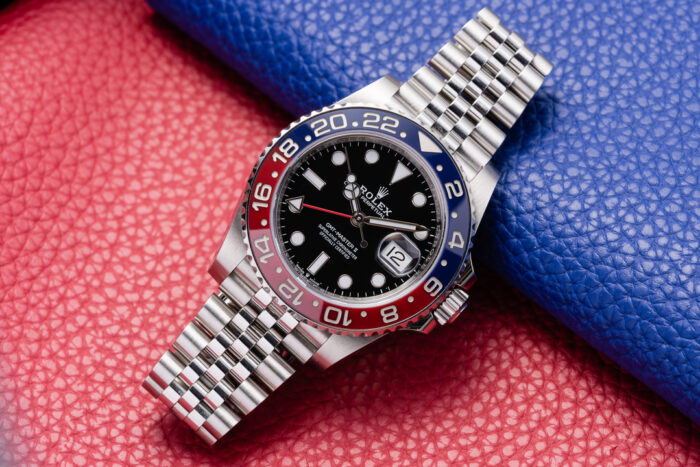 Rolex GMT-Master II "Pepsi" Ref. 126710BLRO featuring a blue and red ceramic bezel and 5-link jubilee bracelet
Profiting From A Rolex Watch
Whether purchasing a brand new or pre-owned Rolex watch, it is almost a guarantee that it will hold its value greatly. What's more, many models actually increase in value over time. If you can manage to get your hands on a limited-edition model, your chances of making a substantial profit when it's time to sell it are certainly high. Of course when buying a brand new watch, you can expect that it will depreciate value within the first few years of owning it. Assuming you maintain the integrity and quality of your watch as best you can, and hold onto the original box, papers, and any accessories that came with the watch – you have a good chance of making a solid return on your investment when deciding to sell your Rolex.
Whether you purchase a new or pre-owned Rolex watch, it is highly likely that it will maintain its value over time, with some models even appreciating in value. Limited edition models, in particular, can offer a significant profit when it's time to sell. However, if you buy a brand new watch, it will likely experience some depreciation within the first few years of ownership. To increase the chances of a good return on investment, it is important to maintain the watch's integrity and quality and keep the original box, papers, and accessories.